Overview
**Click on the top banner image for more photos**
Some parts of Chennai and some outside are becoming wonderful bird watching sites. Our Chennai Birding or Birding Photography or Birdwatching trips are popular among experienced Birders and Beginners. How nice will it be to go with an experienced Birding Guide using a high quality Spotting Scope / Binocular? Join the Birdwatching trip to enjoy your time.
Why should you do Birdwatching Trip with KeyTerns?
You will be taken to the best locations to see maximum / rare species
You will get enhanced birdwatching with the experienced Birding Guide and Bird call expert using high end Spotting Scope / Binocular
You will experience the best Birdwatching, and learning several species of birds, their behaviors, sound and life.
You will do some stunning Birding photography
Much more
Testimonials:
We have been getting appreciations for doing great job in Birdwatching trips. You may find in Google and TripAdvisor. Recent Birdwatching appreciations are below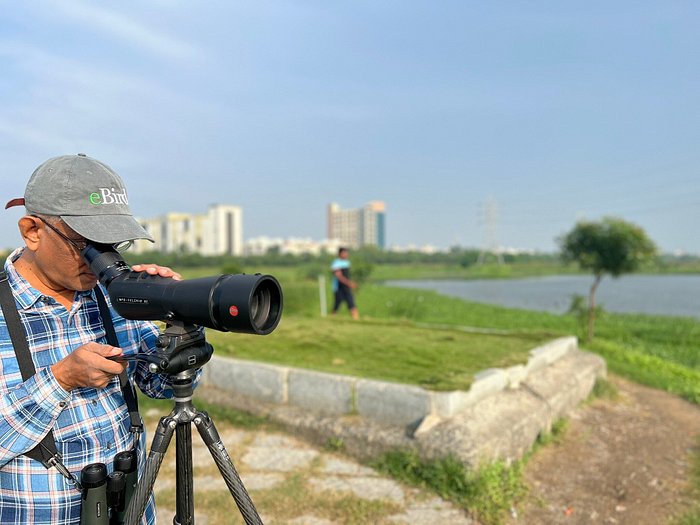 Cost:
Rs.7500 Up to 5 Persons and Rs.1500 Per every Extra Person
Check Transport Cost with us if you need cab pick up. 
INCLUDES Birding Curation with an Expert and GST (Local Taxes)
EXCLUDES Transport, Food, and anything other than inclusions.
Notes
Normally, we do birding at the natural sites. So, there will not be any Entry Fee / Camera fees / Video fees. If there is anything, that will be extra.
As Chennai is hot, we have limited this particular trip to 2 to 3 hours. However, we can do half a day or full day or multi day trips. Please check with us for more details. 
More details are in Chennai Birding and refer Birding page for more Birding trips.
Please contact 7550042234 / keyterns@gmail.com to book.
Pickup Point:
At the Birding location as agreed with Guide
Photo album: 
Note:
Venue, Guide details, etc. will be shared once the registration is complete.
Sequence, if given, is indicative. Itinerary is subject to change
Package booking terms: 100% to be paid for booking.
Birding Guide
Curator profile: Curator is Subbu. He is a passionate Birdwatcher, Bird call specialist, Bird sound recorder and a Researcher providing lectures at various places. He can identify a bird by listening to the sound. He has contributed a lot to the Bird counting and is part of various Birding organizations. He uses high quality Spotting Scope or Binoculars to spot the birds at distance and explains.
Our recent Birding trip details Chennai, Tamil Nadu, walked 2.96 km, 192 minutes
Birds reported are given below. 
2 Fulvous Whistling-Duck
10 Indian Spot-billed Duck
2 Indian Peafowl
3 Grey Francolin
6 Little Grebe
40 Rock Pigeon (Feral Pigeon)
2 Spotted Dove
3 Greater Coucal (Southern)
2 Pied Cuckoo (Jacobin Cuckoo)
4 Asian Koel
40 Asian Palm Swift
6 Eurasian Moorhen
6 Eurasian Coot
4 Grey-headed Swamphen (Purple Swamphen)
1 White-breasted Waterhen
4 Red-wattled Lapwing
10 Asian Openbill
4 Oriental Darter
10 Little Cormorant
4 Purple Heron
2 Intermediate Egret
4 Little Egret
2 Indian Pond-Heron
4 Black-headed Ibis
1 Shikra
1 Spotted Owlet
2 Common Kingfisher (Small Blue Kingfisher)
3 White-throated Kingfisher
4 Pied Kingfisher
2 Asian Green Bee-eater
6 Blue-tailed Bee-eater
1 Indian Roller
20 Rose-ringed Parakeet
2 Common Iora
10 Black Drongo
10 House Crow
8 Large-billed Crow (Indian Jungle)
1 Common Tailorbird
3 Ashy Prinia
2 Zitting Cisticola
8 White-browed Bulbul
6 Yellow-billed Babbler
10 Common Myna
3 Purple-rumped Sunbird
1 Purple Sunbird
6 Baya Weaver
4 Scaly-breasted Munia (Spotted Munia)
1 White-browed Wagtail (Large Pied Wagtail)
#BirdWatching, #BirdingTour, #BirdTour, #Birding, #Telescope, #SpottingScope, #BirdSanctuary, #Flamingos, #Ornithology, #Ornithologist
We do Bird watching experiences / Birding tours / Birding Photography trips.
To get regular updates on this trip and future trips, kindly join the Birding WhatsApp group:
https://chat.whatsapp.com/KrBvBj3WpIuKvjUlabmaXR
4 Hours
Available on request
Chennai